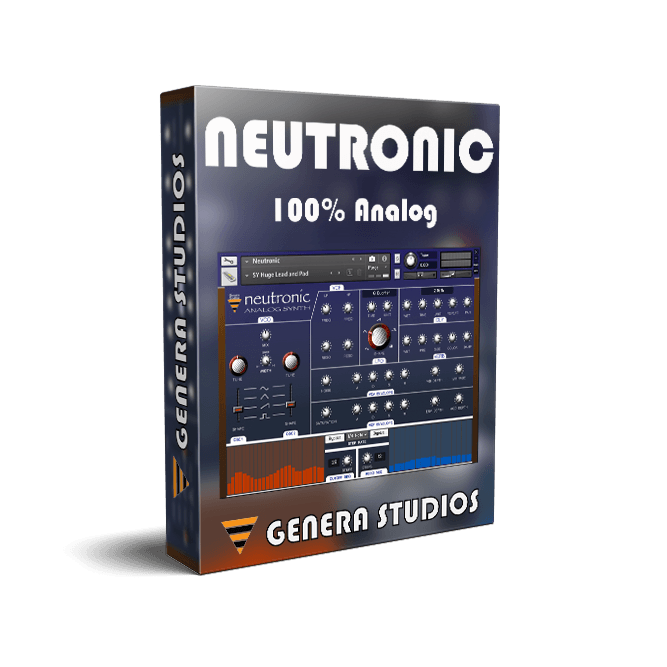 Neutronic - Analog Synth Kontakt Library
---
Neutronic is a Kontakt library created of 100% analog synthesizer sounds. A modern analog mono-synth was sampled across the keyboard (for each oscillator), and the common analog synthesizer controls were modeled in Kontakt. You can choose your oscillators, detune them, pan them, mix them, saturate them, and even add noise. We included two ADSR's, a selectable LFO, a LPF, a HPF, delay, reverb, vibrato, and a custom scripted dual sequencer synced to your DAW clock tempo.
This synth is an absolute powerhouse. The richness of an analog mono-synth turned into a poly-synth gave this library a very thick sound. Of course you can create classic synth sounds reminiscent of those great analog synths from Japanese manufacturers in the 80's, but you can also create incredibly detailed lush ambient patches reminiscent of modern digitally controlled analog synthesizers.
Included in Neutronic:
Total Sample Size - 788MB
290 Samples

Over 90 Snapshot Presets

Analog Synth GUI to Match the Analog Sound

Custom Dual Arpeggiators

Open script for all you KSP scripters out there!
Features:
Two tunable, mixable, and pan-able oscillators
4 selectable waveforms for each oscillator
Two ADSR's for VCA and VCF (with VCF ENV depth)
Switchable LFO synced to your host tempo (with mod depth)
Vibrato depth and rate control
4-pole LPF and HPF
Delay, Reverb, and Saturation Controls
Custom dual arpeggiators for LPF cutoff and resonance
Noise source
More Info:
Recorded at 24 Bit and 44.1kHz
Full version of Kontakt 5.8.1 or above is required (will not work in Kontakt Player)