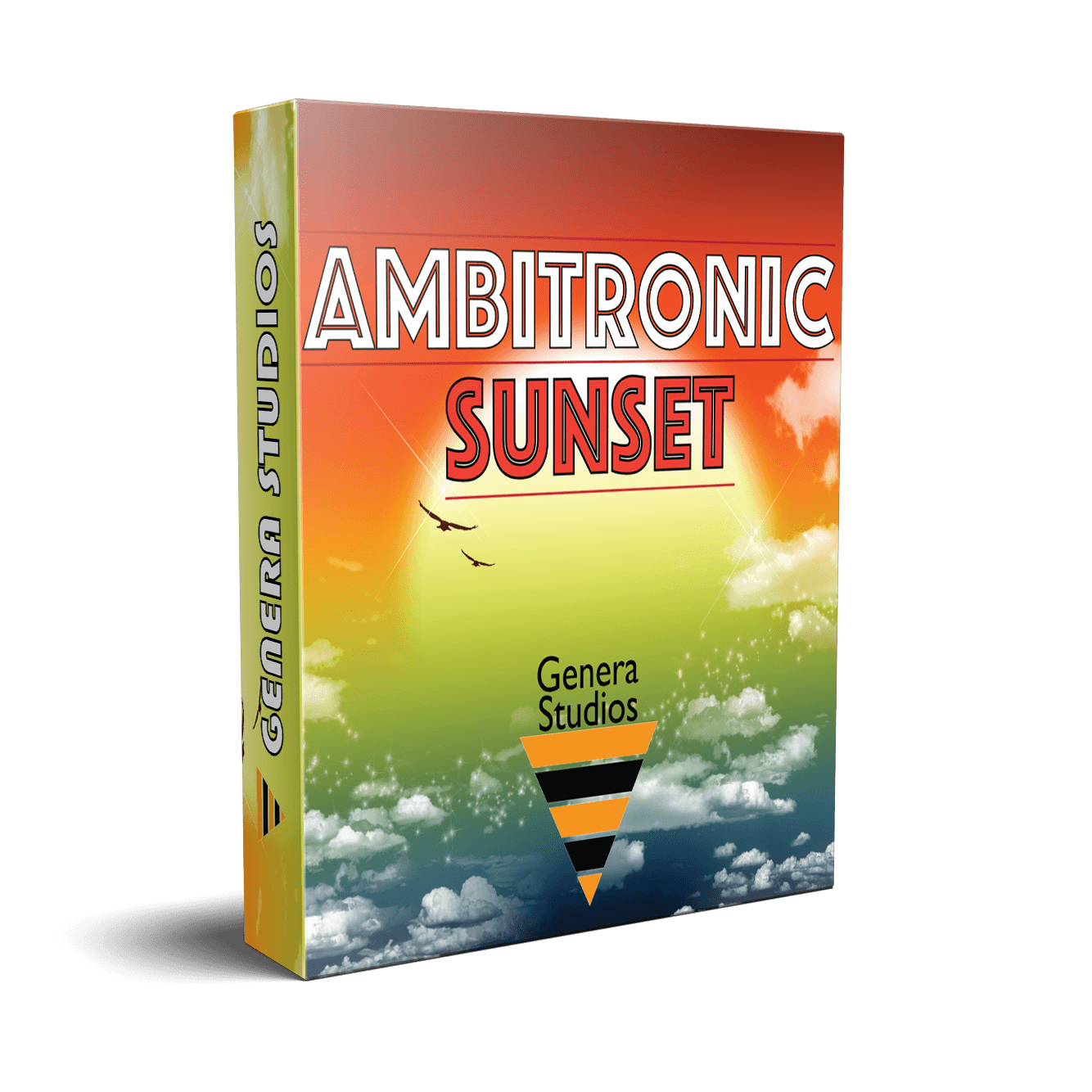 Ambitronic Sunset
---
Ambitronic Sunset is a lush sound library featuring drum loops, synth loops, guitar loops, sound effects, soundscapes, 2 custom Kontakt instruments, and more. The sounds were sculpted using tools that span over 30 years of time - but the sound we kept in mind was a modern take on 80's music. Use one of the 5 theme's included to create a backing track for your own music, import the drum one-shots into Battery, or fire up one of the MIDI files on one of the Touch Series Kontakt instruments - this sound library will help add the flair you need to spice up your mix.
Included in Ambitronic Sunset:
Over 700 MB of Samples
2 Custom Kontakt Instruments with a unique flair

Over 60 Loops of Drums (individual and full), Synths, and Guitar

26 MIDI files

35 One-Shot drum hits and sounds

15 Soundscapes
6 FX
Bonus sampler of 4 other Genera Studios Sample Packs
More Info:
Recorded at 24 Bit and 44.1kHz
Full version of Kontakt 5.8.1 or above is required (will not work in Kontakt Player)
Kontakt Instruments: Touch Series
Included in Ambitronic Sunset are two thick sounding synth Kontakt Instruments with a unique playing style. Several of the controls have been mapped to velocity and aftertouch control, so you can control the intensity of velocity or aftertouch on parameters like cutoff, resonance, volume ADSR attack time, filter ADSR attack time, and more. Through this Touch based experience you can achieve a lot of control over whether the instrument is an ambient pad, or a huge bass - all live while playing.
The Sounds
The loops, one-shots, soundscapes, and effects of Ambitronic Sunset were created using a diverse lineup of instruments. There are vintage analog synthesizers, vintage analog modeling digital synthesizers, clean or ambient guitars, drum machines, a vintage reel to reel tape machine, and a myriad of plug-in effects used to sculpt the sound. Most of the sounds are broken up into 5 themes to make it easy to use these together - but there are other sounds as well.