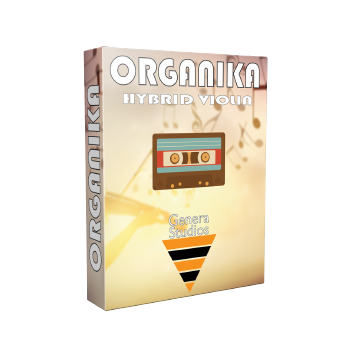 Organika - Hybrid Violin Kontakt Library
---
Organika is a hybrid sound-designed violin library for Kontakt. This isn't your normal orchestral violin library - great care has been taken to sculpt the sounds as much as possible to turn them into something special. The main instrument features the long articulation recorded to tape, and played back on a vintage Library of Congress C1 cassette player at full and half speeds. Experimental instruments have also been included and feature tape destruction, formant shifting, and shimmer reverb. This is a violin library, but it plays like a synthesizer.
Trailer: https://youtu.be/9NtSHO_Mp0E
Demo: https://youtu.be/cXkRKHAhehU
Included in Organika:
Total Sample Size - 382MB
290 Samples

11 NKI's

80 Snapshots for Kontakt 5 users

Almost 200 Additional Snapshots for Kontakt 6 users
Intuitive GUI with Plenty of Control
Features:
Main patch with half-speed cassette samples
4 Separate Articulation NKI's
5 Experimental Instruments
Volume and Filter ADSR's
Switchable LFO synced to your host tempo (with mod depth)
Vibrato depth and rate control
4-pole LPF and HPF
Delay, Reverb, Chorus and Saturation Controls
Speed control for short articulations
More Info:
Recorded at 24 Bit and 48kHz
Full version of Kontakt 5.8.1 or above is required (will not work in Kontakt Player)
**Kontakt 6 is required for bonus snapshots**
THE SOUNDS
The raw samples were performed by Erika Klek, a violinist and pianist, on her Mertes violin. Erika performed long, pizzicato, spiccato, and harmonic articulations - all captured close mic'd to facilitate sound design later in the process. The articulation NKI's feature the raw sounds, the main NKI features the sounds run through a cassette player at full and half speeds, and the experimental NKI's feature the sounds run through varying effect chains. The result is a kind of hybrid electro-acoustic library that blurs the line between organic and electronic - best described as Organika.
THE TAPE
The Library of Congress C1 Cassette player is a vintage piece of gear originally intended for the vision impaired to listen to audio books from the Library of Congress. Its unique variable speed playback controls make it a very powerful ambient sound creation tool. The unit used in this instrument seems to introduce a slight slow-down, some noise, and some wobbling at half speed - giving these samples a truly unique sonic fingerprint. To reduce the noise the samples were de-noised using industry standard tools, but to maintain the integrity of the raw sound we purposefully left some noise in. The samples were tuned in Kontakt to counter the slight slow-down effect of the tape machine.
Presets and Collaboration
To show you the potential of what Organika can do, we teamed up with two excellent musicians and sound designers to create over 270 presets. Jetfire Prime and Franklin Vanderhyde contributed incredible patches that compliment the patches we came up with, and pushed the instrument into new sonic landscapes we never thought of.
Jetfire Prime https://www.jetfireprime.com/
Franklin Vanderhyde of Music For Film and Media
http://musicforfilmandmedia.net/music.html