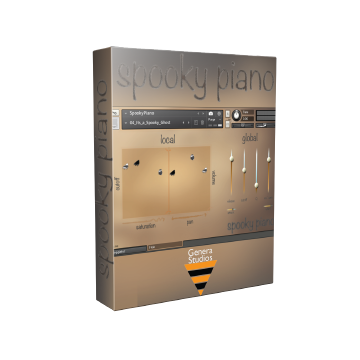 Spooky Piano - Kontakt Piano Library
---
The spookiest Kontakt piano library out there!
 Spooky Piano is Kontakt Instrument created by making convolution IR responses out of notes from a synthesized piano, and then routing noise through each sample to make an atmospheric piano sound. As a second set of sounds, the original samples were then fed through saturation and reverb to create an even more atmospheric sound. As a third set of sounds, a single sample was mapped across the keyboard to create spooky artifacts that add an additional transient to the instrument.
Graphical UI (Emphasis on Graphical)
Our mission with Spooky Piano was to minimize the amount of knobs and sliders without losing any control. The bulk of the UI is made up of 2 XY pads, each containing the 3 unique sounds. You can drag around the sounds on the Volume / Pan Pad to position the instrument in space, and then drag the sounds on the Cutoff / Saturation Pad to position the instrument in frequency content. The remaining sliders control the global parameters of the instrument in a more traditional manner.
Arpeggiator
Spooky Piano comes with a second tab on the GUI that gives you access to an arpeggiator. This is a stock NI preset arpeggiator, but it gives you access to a completely different way to play the instrument. Our favorite mode is random, with the rate set to high speeds - this creates a flurry of notes around whatever chord or groups of notes you're playing.
Spooky Presets
Spooky Piano comes with 16 snapshot presets to get you started. We found that Spooky Piano performed best in 3 core areas: the main sounds (resembling a atmospheric piano), the spooky sounds (twisted sounds barely resembling a piano), and fast arpeggiated sounds.
Note that if you want to use the snapshots in the drop-down menu on Taps, you must move the snapshot folder into your Kontakt snapshot folder. There are instructions for how to do this in the README file included with the download. 
Included

More Info

1 Kontakt Instrument - 260MB

72 Samples

16 Snapshot Presets

Clean Simple GUI with Arpeggiator

Open script

Recorded at 24 Bit and 44.1kHz

Full version of Kontakt 5.8.1 or above is required (will not work in Kontakt Player)